Face in a Book is my weekly mini-review feature. This week, the focus is on historical fiction - and what a four-star week it was!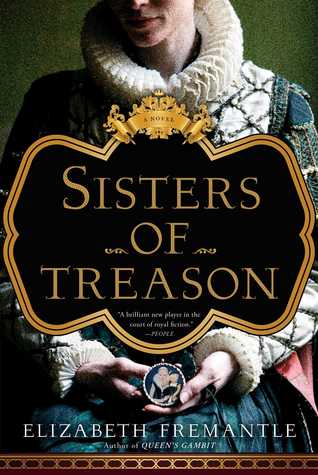 Sisters of Treason by Elizabeth Fremantle (Simon & Schuster; on sale July 8, 2014)
Early in Mary Tudor's turbulent reign, Lady Catherine and Lady Mary Grey are reeling after the brutal execution of their elder seventeen-year-old sister, Lady Jane Grey, and the succession is by no means stable. In Sisters of Treason, Elizabeth Freemantle brings these young women to life in a spellbinding Tudor tale of love and politics.

Neither sister is well suited to a dangerous life at court. Flirtatious Lady Catherine, thought to be the true heir, cannot control her compulsion to love and be loved. Her sister, clever Lady Mary, has a crooked spine and a tiny stature in an age when physical perfection equates to goodness—and both girls have inherited the Tudor blood that is more curse than blessing. For either girl to marry without royal permission would be a potentially fatal political act. It is the royal portrait painter, Levina Teerlinc, who helps the girls survive these troubled times. She becomes their mentor and confidante, but when the Queen's sister, the hot-headed Elizabeth, inherits the crown, life at court becomes increasingly treacherous for the surviving Grey sisters. Ultimately each young woman must decide how far she will go to defy her Queen, risk her life, and find the safety and love she longs for.
As a historical fiction fan, it's very refreshing to read Tudor fiction that is not fully about Elizabeth, Mary, or Anne Boleyn.
Sisters of Treason
focuses on characters who were significant parts of the Tudor court, but not main players. After Lady Jane Grey, a Protestant cousin who was elevated to the throne, was executed after reigning only nine days, her powerful family is reeling. Lady Catherine and Lady Mary Grey are now left at court to bow and scrape, ever mindful that their heads could be next.
Lady Catherine is flirtatious, and thought to be a true Protestant heir to the crown after her sister Jane is executed. This flighty creature is in love with the idea of love, and it becomes her waking obsession. Meanwhile, her sister Mary, fears that she will never be loved. Born crippled, with a hunchback and small stature, she becomes Queen Mary's "pet," and finds that there is little in the way of freedom when it comes to her life at court. Intertwined with the stories of these "sisters of treason" (fantastic title, by the way) is that of Levina Treelinc, a rare female court painter navigating the currents of Tudor politics. At the same time, Levina has promised the Grey sisters' mother that she will take them under her wing, and protect them as best as she can.
This becomes increasingly difficult, as their story takes many tense turns. The writing is vivid, and it is clear that Fremantle has done her research. I'm the type of reader who expects historical fiction to be based in true fact, not speculation. This title doesn't disappoint. As allegiances switch and the specter of death and treason hangs over Catherine and Mary Grey's heads, Fremantle breathes life into the characters and turns them from cameo characters to heroines in their own right.
The Shadow Queen by Sandra Gulland (Doubleday; on sale April 8, 2014)
Claudette's life is like an ever-revolving stage set. From an impoverished childhood wandering the French countryside with her family's acting troupe, Claudette finally witnesses her mother's astonishing rise to stardom in Parisian theaters. Working with playwrights Corneille, Molière and Racine, Claudette's life is culturally rich, but like all in the theatrical world at the time, she's socially scorned.

A series of chance encounters gradually pull Claudette into the alluring orbit of Athénaïs de Montespan, mistress to Louis XIV and reigning "Shadow Queen." Needing someone to safeguard her secrets, Athénaïs offers to hire Claudette as her personal attendant.

Enticed by the promise of riches and respectability, Claudette leaves the world of the theater only to find that court is very much like a stage, with outward shows of loyalty masking more devious intentions. This parallel is not lost on Athénaïs, who fears political enemies are plotting her ruin as young courtesans angle to take the coveted spot in the king's bed.

Indeed, Claudette's "reputable" new position is marked by spying, illicit trysts and titanic power struggles. As Athénaïs, becomes ever more desperate to hold onto the King's favor, innocent love charms move into the realm of deadly Black Magic, and Claudette is forced to consider a move that will put her own life—and the family she loves so dearly—at risk.
Much has been written about the gilded 17th century French court of Louis XIV, so I was extremely intrigued by the premise of The Shadow Queen, which was inspired by the true story of a woman who becomes the confidante and servant of an influential mistress of the Sun King, Athénaïs de Montespan. And yes, she is the "Shadow Queen" of the title. Deceptively, this novel is actually more about Athénaïs's servant, Claudette. However, the story is so intriguing that I was actually pleased rather than disappointed.
Gulland sets the novel against the creation of Versailles, and the War of Theaters, a lesser-known event where French playwrights and playhouses competed for the king's patronage. Claudette is the daughter of impoverished actors, and as she is wandering the countryside with her family looking for work, she meets a young "Shadow Queen," Athénaïs. In return for suggesting that Claudette's family perform for the Duke, her father, Athénaïs requests a dark favor. This dark favor, while unaccomplished, colors their relationship.
Claudette, years later, finds herself in Paris. When she leaves her life of theatre to work as Athénaïs's confidante and right-hand, she realizes that there are many parallels between the stage and life at court. When Athénaïs, fearing that she has lost the King's affection, moves from harmless charms to "Black Magic," Claudette finds that she and her beloved family are in danger. The relationship between Claudette and Athénaïs is tense and conflicted, which makes this a breathtaking and quick read within a beautiful package.