Face in a Book is my weekly mini-review feature. When it comes to good books, I'm on a roll! From a girl whose family is ripped apart after tragedy, to fairy tale sisters who desperately try to stick together, the focus this week is on family bonds.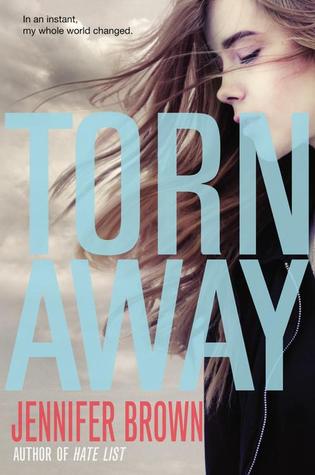 Torn Away by Jennifer Brown (Little Brown Books for Young Readers; on sale May 6, 2014)
Jersey Cameron has always loved a good storm. Watching the clouds roll in and the wind pick up. Smelling the electricity in the air. Dancing barefoot in the rain. She lives in the Midwest, after all, where the weather is sure to keep you guessing. Jersey knows what to do when the tornado sirens sound. But she never could have prepared for this.

When her town is devastated by a tornado, Jersey loses everything. As she struggles to overcome her grief, she's sent to live with relatives she hardly knows-family who might as well be strangers. In an unfamiliar place, can Jersey discover that even on the darkest of days, there are some things no tornado can destroy?

In this powerful and poignant novel, acclaimed author Jennifer Brown delivers a story of love, loss, hope, and survival.
Jersey is an ordinary teen, who sometimes takes her life for granted. When a tornado tears her world apart, she learns regret, resilience, and finds an unexpected family of her own. In the aftermath, she is sent to relatives who she has never met. She struggles with new stepsisters, a father she never knew, and a stepmother who's just a bit wicked.
Jersey is one of the most phenomenal characters you can find in YA literature - you feel her intense grief, her guilt, her loneliness - and Brown's treatment exemplifies the genre. I found myself in Jersey's head, and entirely empathized with the poor girl. Her life is entirely destroyed by natural disaster, and yet she still manages to hold strong. She takes control of her life, and it's hard not to respect her.
Typically I'm not a fan of contemporary YA, but I took a chance on this read. Within pages, it gripped me and tore me apart. It made me sob, and it put me together again at the end. I'll be looking out for Brown's other work, but in the meantime I can wholeheartedly recommend
Torn Away
.
The Girls at the Kingfisher Club by Genevieve Valentine (Atria; on sale June 3, 2014)
From award-winning author Genevieve Valentine, a "gorgeous and bewitching" (Scott Westerfeld) reimagining of the fairytale of the Twelve Dancing Princesses as flappers during the Roaring Twenties in Manhattan.

Jo, the firstborn, "The General" to her eleven sisters, is the only thing the Hamilton girls have in place of a mother. She is the one who taught them how to dance, the one who gives the signal each night, as they slip out of the confines of their father's townhouse to await the cabs that will take them to the speakeasy. Together they elude their distant and controlling father, until the day he decides to marry them all off.

The girls, meanwhile, continue to dance, from Salon Renaud to the Swan and, finally, the Kingfisher, the club they come to call home. They dance until one night when they are caught in a raid, separated, and Jo is thrust face-to-face with someone from her past: a bootlegger named Tom whom she hasn't seen in almost ten years. Suddenly Jo must weigh in the balance not only the demands of her father and eleven sisters, but those she must make of herself.
Twelve young girls are growing up in a repressive, frankly abusive household in Prohibition era New York City – they barely see their father, and after the death of their mother, they are not allowed to leave their home.
The Girls at the Kingfisher Club
is clearly a retelling of the Twelve Dancing Princesses fairy tale, but can be read without the knowledge of that story.
Jo, like bold Jo from
Little Women
, is the leader of this sisterhood. So firm that she's called The General, she decides to sneak them all out every night so that her sisters won't be tempted to run away and leave her. Told in Jo's point-of-view, we see her struggle with taking care of her family, while both yearning and fearing freedom. The beautiful girls go from speakeasy to speakeasy, gathering a reputation for their dancing and sudden disappearances.
But of course, all good things must come to an end – and her father, hearing of a group of girls who go dancing every night, begins to suspect his daughters. He begins actively scheming to marry them off – and that's when everything changes. I loved the characterization of the girls' father: he was perfectly cold, controlling, and cruel.
I enjoyed the read, but wish that some of the other sisters' personalities had been more developed. Due to that, I felt a bit distanced from their story and didn't feel invested in their characters by the end. Still, I would recommend this to fans of Robin McKinley, or of fairy tale retellings in general. Historical fiction fans will also love the sparkling glimpse into speakeasies and 1920s New York.