Face in a Book is my weekly mini-review feature. This week I focus on the launch of Robin Hobb's
Fitz and Fool
Trilogy!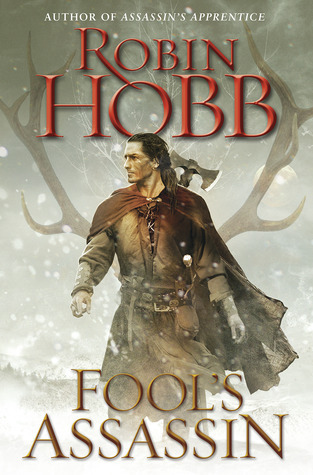 Fool's Assassin (Fitz and Fool Trilogy #1) by Robin Hobb (Del Ray; on sale August 12, 2014)
Nearly twenty years ago, Robin Hobb burst upon the fantasy scene with the first of her acclaimed Farseer novels, Assassin's Apprentice, which introduced the characters of FitzChivalry Farseer and his uncanny friend the Fool. A watershed moment in modern fantasy, this novel—and those that followed—broke exciting new ground in a beloved genre. Together with George R. R. Martin, Robin Hobb helped pave the way for such talented new voices as Scott Lynch, Brandon Sanderson, and Naomi Novik.

Over the years, Hobb's imagination has soared throughout the mythic lands of the Six Duchies in such bestselling series as the Liveship Traders Trilogy and the Rain Wilds Chronicles. But no matter how far she roamed, her heart always remained with Fitz. And now, at last, she has come home, with an astonishing new novel that opens a dark and gripping chapter in the Farseer saga.

FitzChivalry—royal bastard and former king's assassin—has left his life of intrigue behind. As far as the rest of the world knows, FitzChivalry Farseer is dead and buried. Masquerading as Tom Badgerlock, Fitz is now married to his childhood sweetheart, Molly, and leading the quiet life of a country squire.

Though Fitz is haunted by the disappearance of the Fool, who did so much to shape Fitz into the man he has become, such private hurts are put aside in the business of daily life, at least until the appearance of menacing, pale-skinned strangers casts a sinister shadow over Fitz's past . . . and his future.

Now, to protect his new life, the former assassin must once again take up his old one...


This was a thrilling return to Fitz's story – I was so excited to read this, and was honestly a little worried that it wouldn't live up to all of the hype. Especially since George R.R. Martin (
A Song of Ice and Fire)
called it, "Fantasy as it ought to be written . . . Robin Hobb's books are diamonds in a sea of zircons." Happily, I was wrong.
Mild spoilers ahoy, under the page break.
When we return, Fitz and his wife Molly are living at Withywoods with Patience, and Molly's children with Burrich. After a rough life, to say the least, Fitz has settled down into a more quiet existence, pretending to be a humble landowner. He's actually happy. But trouble finds him, as always. Damn you, Chade, you tricksy spymaster.
While the story can be slow at times, it allows for depth of detail and the continuation of world-building. Hobb doesn't just assume you'll get all the intricacies of the Duchies – there's more to it than that. New facts about the history of the Whites are revealed, for example.
Special appearances from Nighteyes made me incredibly happy – and the reveal of a new character named Bee, who I absolutely adored. I refuse to say more and spoil it.
All in all, returning to Fitz's story in The Fool's Assassin was like falling into a deep conversation with an old friend. By the end, you feel warm inside, and you can't wait to continue where you both left off.