Face in a Book is my weekly mini-review feature. This week includes a bunch of great reads, including a unique dystopian YA, historical fiction about Sisi, the Empress of Austria, and an eccentric genetics professor searching for his life-long mate - through statistics, of course.
Some Fine Day by Kat Ross (Strange Chemistry; on sale July 1, 2014)
Sixteen-year-old Jansin Nordqvist is on the verge of graduating from the black ops factory known as the Academy. She's smart and deadly, and knows three things with absolute certainty:
1. When the world flooded and civilization retreated deep underground, there was no one left on the surface.
2. The only species to thrive there are the toads, a primate/amphibian hybrid with a serious mean streak.
3. There's no place on Earth where you can hide from the hypercanes, continent-sized storms that have raged for decades.
Jansin has been lied to. On all counts.
Jansin is a teenage girl training for a military life "underground." Her society left the surface of Earth after global warming created "hypercanes" - devastating storms that rage across the continents. While on a vacation above, she gets kidnapped and what she discovers will change everything she ever thought she knew.
While I'm getting pretty sick of dystopian YA - which has flooded the market lately, as I'm sure you know - this was a standout. Jansin is smart, brave, and best of all, she can sometimes be really flawed and foolish, all of which I
loved
. And she actually has both parents, which is new. She grows to care about her love interest, but it was still all a bit quick for my taste. I didn't really feel that their relationship was worth Jansin risking everything for and leaving her family behind, considering there wasn't much romantic development there.
However, Ross really delves into some deep topics: genetic engineering and mutation, man-made global warming, militaristic societies, biological and chemical warfare...all of which lead to an interesting and fast-paced plot that I zoomed through and ultimately enjoyed. It's a shame the publisher, Strange Chemistry, went out of business - I hope this title finds a new home soon.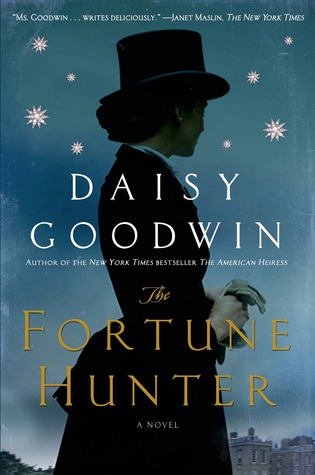 The Fortune Hunter by Daisy Goodwin (St. Martin's Press; on sale July 29, 2014)
In 1875, Sisi, the Empress of Austria is the woman that every man desires and every woman envies.
Beautiful, athletic and intelligent, Sisi has everything - except happiness. Bored with the stultifying etiquette of the Hapsburg Court and her dutiful but unexciting husband, Franz Joseph, Sisi comes to England to hunt. She comes looking for excitement and she finds it in the dashing form of Captain Bay Middleton, the only man in Europe who can outride her. Ten years younger than her and engaged to the rich and devoted Charlotte, Bay has everything to lose by falling for a woman who can never be his. But Bay and the Empress are as reckless as each other, and their mutual attraction is a force that cannot be denied.
Full of passion and drama, THE FORTUNE HUNTER tells the true story of a nineteenth century Queen of Hearts and a cavalry captain, and the struggle between love and duty.
I went into this knowing that Daisy Goodwin had written another title that I wasn't fond of -
The American Heiress
, but I like to give authors more than one chance. Especially when enough time has lapsed that there may be some improvement to the writing style, which was my issue with the last book. I'm glad I gave Goodwin another shot, because I enjoyed
The Fortune Hunter
.
Set in 1875, Charlotte Baird is the sole heiress to a fortune, who dreams of becoming a professional photographer. This obviously creates waves through her staunchly conservative society. When she meets and falls in love with Bay, she believes that her life is right on track for happiness. However, when "The Most Beautiful Woman in Europe," Sisi, the Empress of Austria, arrives - everything changes. Bay, an expert horseman and Captain of the Royal Guard, becomes infatuated with the Empress, who often takes him hunting. His relationship with Charlotte becomes strained, and gossip-mongers are tearing the pair apart.
I felt like I was immersed in the Victorian era, and Goodwin is skillful with her description of how the upper crust lives. I liked Charlotte very much, and I found Bay pretty fascinating as well. While I didn't feel any sympathy with Sisi, it was wonderful reading historical fiction about a historical figure you don't hear much about. The blend of fact and fiction kept me intrigued, but I did wish there had been more fact. However, this was a solidly good read.
The Rosie Project by Graeme Simsion (Simon & Schuster; on sale June 3, 2014)
Don Tillman, professor of genetics, has never been on a second date. He is a man who can count all his friends on the fingers of one hand, whose lifelong difficulty with social rituals has convinced him that he is simply not wired for romance. So when an acquaintance informs him that he would make a "wonderful" husband, his first reaction is shock.

Yet he must concede to the statistical probability that there is someone for everyone, and he embarks upon The Wife Project. In the orderly, evidence-based manner with which he approaches all things, Don sets out to find the perfect partner. She will be punctual and logical--most definitely not a barmaid, a smoker, a drinker, or a late-arriver.
Yet Rosie Jarman is all these things. She is also beguiling, fiery, intelligent--and on a quest of her own. She is looking for her biological father, a search that a certain DNA expert might be able to help her with. Don's Wife Project takes a back burner to the Father Project and an unlikely relationship blooms, forcing the scientifically minded geneticist to confront the spontaneous whirlwind that is Rosie--and the realization that love is not always what looks good on paper.


This was one of the most unique (and adorable) books I've read all year. Don Tillman teaches genetics at a university in Australia - and he's steadfastly single. Not for lack of trying - he just hasn't met the right woman. He embarks on "The Wife Project" to find his perfect mate, using a hilarious questionnaire to weed out the most inappropriate.
When his best friend picks out a questionnaire - it turns out to be Rosie. Rosie is very much the "unperfect" partner - she smokes, she's a bartender, she drinks, and she can't cook! Don finds out, however, that Rosie is on the hunt for her biological father - and the "Father Project" begins. Slowly, you watch Don begin to fall for Rosie, and it's absolutely precious.
This was equal parts sweet, quirky, and intelligent. The narrator had a very distinctive voice, and I was definitely rooting for Don throughout the whole book. This is a novel I'll be recommending to people for a long time.